Are you looking for a suggestive destination for your Christmas holidays? Are you passionate about those Christmas markets where you can browse through the craft stalls breathing the magical atmosphere of waiting? Then in Nicolosi, in the heart of Sicily, you are in the right place.
The door of Etna, as traditionally is also known this town in the province of Catania, is offered in all its scenic beauty that only the presence of the majestic volcano can give.
All in the name of tradition, Nicolosi's Christmas markets will amaze you every weekend from 1 December 2018 to 6 January 2019 including concerts, shows, religious and popular celebrations. There will be plenty of typical tastings to discover the Etna gastronomy.
For the year 2018, the Municipality of Nicolosi launches the "Christmas Light" competition
through which citizens are invited to work for the embellishment of facades, balconies, gardens, shop windows with decorations, nativity scenes and illuminations related to the Christmas period.
Christmas markets in Nicolosi
Where: Piazza Vittorio Emanuele, Nicolosi (Catania).
Dates: every weekend from 1 December 2018 to 6 January 2019.
How to get there: bus, the AST company leaves from Catania and the main neighboring towns. For information, contact the AST company at the telephone number 095 7461096.
For those arriving by car coming from the PA-CT motorway A19, at the junction with the Catania ring road, continue towards Messina, exiting at the "Gravina di Catania" junction. From here, just follow the signs for Nicolosi.
The nearest train station is Catania; from here continue with the bus.
For those traveling by plane, remember that the Fontana Rossa airport of Catania is about 30 km away.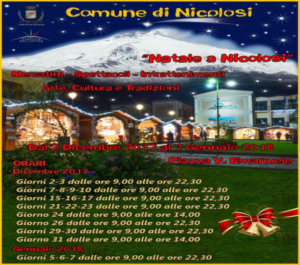 Apartments